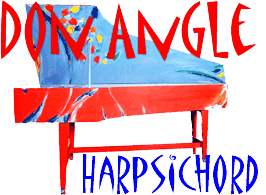 "....Don Angle seems to have an entire orchestra in his instrument."
-Tiroler Tageszeitung
Bio/Program Notes
Learn about Don's excitingly innovative approach to music for the harpsichord.
Concerts
A history of Don's public performances
Discography
Browse a list of Don's albums and publications.
Available Printed Arrangements
List of existing printed arrangements by Don.
Ordering
All available recordings are listed here. Printed items are ordered here. NOTE: If you cannot find his recordings over the Internet Outlets, Order directly thru this WEBSITE donangle.com
Maintenance
Don's work with Harpsichord Maintenance and Consultation; Primarily, but not exclusively - William Dowd Harpsichords.
Links
Links to other interesting Harpsichord-related sites.
Harpsichord pictured above is a French Double by Reinhard von Nagel, decorated by Oliver Debre, Paris 1990 http://www.vonnagel.com
Dear Family, Friends, Colleagues, Clients –
We are so sorry to have to inform you of Don's death on Sunday, July 27, after a short, difficult battle with cancer.  Many of you will have heard already.  Many of you have been in touch over the last month with messages of love, concern and offers of help.  We wish we could answer each of you adequately.  Your prayers and expressions of love for Don have meant more to us than we can say. For those of you who had not yet heard even of Don's illness, this will be a shock and we are so very sorry to lay such a thing on you without warning.
Don touched the lives of many people.  His life, equally, was touched by all of you, and it was a matter of no small amazement to him that he got to work for and make friends with so many wonderful people in so many far-flung and interesting places.
We will be holding a memorial service for Don at 3pm Saturday, August 23 in the Nahant Village Church, on Cliff Street in Nahant MA.  In lieu of flowers, donations in Don's memory may be made to:
Nahant Historical Society
Ellingwood Concert Series
41 Valley Road
Nahant, MA 01908
Hospice of the North Shore
75 Sylvan Street, Suite B-102
Danvers, MA 01923
Best – Cherry/Priscilla & Caroline